Your One-Stop For Graphics, Design, Print and More!
COVID-19 & Muskoka Signs & Graphics
Muskoka Signs and Graphics is an essential service. As such we are currently working as many hours as is needed to keep up with our orders. May have asked if we are open. The short answer is YES. Please call us in advance should you need to pick anything up. For your safety purchases can also be made over the phone.
Welcome to Our Online Home
Muskoka Signs and Graphics is more than just a sign shop. Let us show you what we do best! Everything from graphics, large format printing, lamination, signs, billboards, banners, decals, vehicle wraps, business cards and custom hand painting - just to name a few. Here's a complete list of the services we offer and a sample of our esteemed clientelle.
Muskoka Signs and Graphics offers competitive pricing with Toronto and Southern Ontario with high tech, state of the art equipment like the M1600 Flat Bed Printer for any direct print job. Call today for a quote - You won't be disappointed! We can often offer a turn around time of 24 hours from the time your order is placed.
We're committed to professional customer service and offer the highest quality results to give you that WOW factor you're looking for on your next project.
Looking for something different? We now do inhouse C&C Routering for custom cut jobs and signs.
For a competitive price, call 877-687-6876 or request a quote online.
Custom Signs & Graphics Since 1979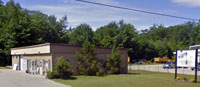 Our shop opened it's doors more than 30 years ago and today we're still local and family owned. Our business is based on simple principles that stand the test of time. Hard work, honesty, and listening to our customers is what has made us your preferred company for everything related to graphics and design.
We service the Muskoka and surrounding area, but are not limited to a specific geographic area. If you like what we do, give us a call and ask how we can help with your next project.
What Our Customers Say:
"I have been doing business with Bob Madsen and Muskoka Signs for over 30 years and I look forward to many more. It is a pleasure to do business with a local company that continues to offer excellent customer service and I highly recommend Muskoka Signs and Graphics Inc. for all your signage needs! Keep up the great work!" Shelly Waters, Harvey Kalles Real Estate Ltd., Brokerage
Recent Work